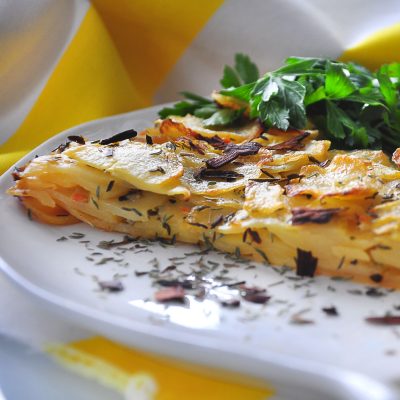 Layered Thyme Potatoes
Prep: 20 Mins / Cook: 45 Mins

Serves 6

easy
Ingredients
* Switch between cup/oz and g/ml in Account Settings*
Medium Potatoes

Medium Potatoes

1 kg

1 kg

Vegan Butter

Vegan Butter

2 tbsp

2 tbsp

Dried Thyme

Dried Thyme

1 tsp

1 tsp

Fresh Parsley

Fresh Parsley

bunch

bunch

Table Salt

Table Salt

1 tsp

1 tsp
Instructions
1.

Peel the potatoes and then cut into thin slices.

2.

Melt the butter in a saucepan and mix in the salt and thyme.

3.

Line a baking tray with parchment paper. Then arrange the potato slices in a circular or rectangular shape.

4.

Brush the potato slices with the thyme butter mix.

5.

Now create a second layer and brush with the thyme butter again.

6.

Repeat for as many layers as you prefer (I used 5 layers).

7.

Bake in the oven at 180C for approx. 45 minutes.

8.

Serve with chopped parley and a little more thyme.
Nutritional Information
Calories:


218

Fat:


4g

Sodium:


22mg

Carbs:


44g

Sugar:


2g

Protein:


5g