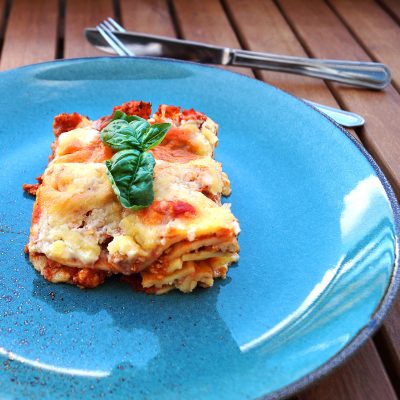 Homemade Vegan Lasagne
Prep: 15 Mins / Cook: 60 Mins

Serves 6

easy
Our vegan dairy free lasagna is so delicious it tastes like the real thing but much better - and healthier of course! Prepared the Italian way with traditional ingredients and Mediterranean herbs, we've also used gluten free pasta to ensure this delicious recipe will be a huge hit with all your family or guests!
Gluten Free
Dairy Free
High Protein
Ingredients
* Switch between cup/oz and g/ml in Account Settings*
Tomato Sauce:

Yellow Onion

Brown Onion

1

1

Carrot

Carrot

2

2

Soy Mince

Soya Mince

750g

4 & 1/3 cups

Diced Tomatoes

Chopped Tomatoes

1200g

6 cups

Olive Oil

Olive Oil

3 tbsp

3 tbsp

Red Wine

Red Wine

100ml

2/5 cup

Table Salt

Table Salt

pinch

pinch

Ground Black Pepper

Ground Black Pepper

pinch

pinch

Dried Rosemary

Dried Rosemary

3 tbsp

3 tbsp

Dried Oregano

Dried Oregano

2 tbsp

2 tbsp

Dried Basil

Dried Basil

2 tbsp

2 tbsp

Dried Thyme

Dried Thyme

1 tbsp

1 tbsp

Bechamel Sauce:

Almond Milk

Almond Milk

750ml

3 cups

Spelt Flour

Spelt Flour

5 tbsp

5 tbsp

Table Salt

Table Salt

pinch

pinch

Ground Black Pepper

Ground Black Pepper

pinch

pinch

Ground Nutmeg

Ground Nutmeg

pinch

pinch

Lasagne:

Vegan Parmesan

Vegan Parmesan

250g

2 & 1/2 cups

Gluten Free Lasagna Pasta

Gluten Free Lasagne Pasta

12 sheets

12 sheets
Instructions
1.

Chop the onion into fine pieces, wash and peel carrots, quarter them and cut them into thin, small pieces.

2.

Preheat a large saucepan with the olive or vegetable oil. Once hot, add the onions and stir until golden brown before adding the carrots. Give it a couple of minutes while stirring and then add the soya mince.

3.

Keep stirring for a couple of minutes and then add the red wine. Stir one more time before adding the tinned tomatoes.

4.

Season with salt, pepper, rosemary, oregano, basil and thyme and let it cook on low heat for at least 30 minutes. Stir occasionally. (I usually season the sauce one more time before taking it off the stove).

5.

In the meantime, cook the pasta sheets in boiling water (best to follow the instructions on the pack).

6.

For the béchamel sauce, heat the oats or almond milk in a small saucepan. Right before it starts to cook, sprinkle the flour into the milk while whisking it slowly. Whisk until the béchamel sauce thickened.

7.

Remove from stove and season with salt, pepper and a pinch of nutmeg.

8.

Preheat oven to 180 degrees Celsius (also here it's best to follow the instructions of the lasagne pasta pack!).

9.

Spread out a first thin layer of sauce into a big casserole dish, before adding the first lasagne pasta sheets. Make sure they don't overlap! Add another layer of sauce, before spreading out a thin layer of béchamel sauce. Sprinkle some of the vegan cheese on top.

10.

Repeat this, starting with the lasagne pasta sheets. Make sure you leave enough cheese as a last layer/topping to get a nice, golden-brown lasagne crust.

11.

Put casserole dish into pre-heated oven for about 20-30 minutes (again, just follow the instructions on the pasta pack!).

12.

Cut into portions and serve hot!|Tip: I leave the lasagne in the oven for about 5 minutes with the oven already switched off before cutting it.
Nutritional Information
Calories:


713

Fat:


18g

Sodium:


454mg

Carbs:


119g

Sugar:


30g

Protein:


42g