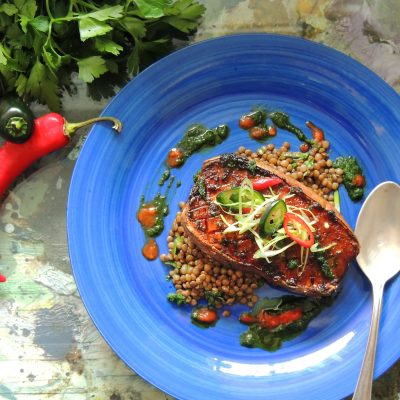 Harissa Glazed Sweet Potato
Prep: 30 Mins / Cook: 50 Mins

Serves 2

easy
Halved and oven-roasted sweet potato with a gorgeous harissa glazing, served with balsamic lentils and a quick salsa verde. This gorgeous vegetarian dish is gluten free, rich in protein and a fantastic option for your meal planner!
Gluten Free
Dairy Free
High Protein
Ingredients
* Switch between cup/oz and g/ml in Account Settings*
Sweet Potato

Sweet Potato

2

2

Lentils

Lentils

220g

1 cup

Garlic

Garlic

5 cloves

5 cloves

Shallot

Shallot

4

4

Fresh Parsley

Fresh Parsley

handful

handful

Spring Onion

Spring Onion

3

3

Jalapeno

Jalapeno

2

2

Clear Honey

Clear Honey

50g

3 tbsp

Brown Sugar

Brown Sugar

50g

1/4 cup

Lemon

Lemon

1

1

Balsamic Vinegar

Balsamic Vinegar

70ml

5 tbsp

Harissa Paste

Harissa Paste

1 tbsp

1 tbsp

Olive Oil

Olive Oil

120ml

1/2 cup

Table Salt

Table Salt

to taste

to taste

Ground Black Pepper

Ground Black Pepper

to taste

to taste
Instructions
1.

Sweet Potato: Cut each potato in half. On the side where you didn't slice yet make a small parallel cut so the potato sits flat. Score the large side of the potato, scoring means to make opposing diagonal slices approximately half a centimeter deep into the surface of the potato. This allows for the glaze and flavor to penetrate the flesh of the potato, and looks cool. Coat generously with salt, pepper and olive oil. Roast in the oven at 180C for 15 minutes. Start brushing generous amounts of glaze every 10 minutes. 10 minutes before the end make the thickest layer of glaze and turn up the oven to 220 degrees.

2.

Glaze: Over medium heat brown 2 cloves of garlic and one shallot in olive oil. Add Harissa paste depending on your preference of spice, add water or carrot juice as well as 25g of honey and 25g of brown sugar and let reduce until a sticky glaze is reached. Add salt and pepper.

3.

Balsamic Lentils: Take your preferred lentils and wash properly. 110g per person is plenty for this dish. Cook the lentils with oil, shallots, lemon juice and garlic and then add at least double the amount of water. Depending on the type of lentils cook from between 9 -15 minutes or until soft but still holding shape.

4.

In a separate pan add the remaining shallots, garlic, brown sugar and let caramelize, then add the balsamic and let it reduce to a syrupy texture.

5.

Salsa Verde: Add parsley, 2 spring onions, 1 jalapeno, garlic, olive oil, a dash of lemon and salt and pepper into your food processor and let blend until a smooth electric green salsa materializes.

6.

Building the dish: Take your plate and build a nice bed with the lentils, place your shiny, sticky sweet potato on top, spread the salsa verde around as desired, also a dash of left over glaze will do no harm. Garnish with chilies, herbs and spring onions. Enjoy!
Nutritional Information
Calories:


1421

Fat:


48g

Sodium:


187mg

Carbs:


146g

Sugar:


70g

Protein:


35g