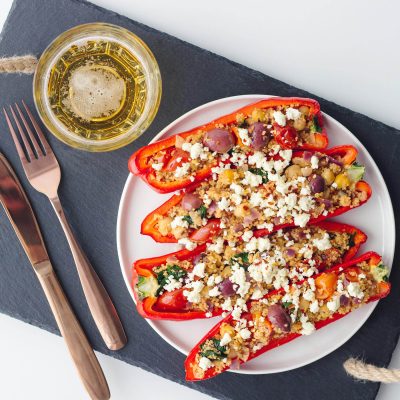 Greek Stuffed Peppers
Prep: 15 Mins / Cook: 15 Mins

Serves 4

easy
Ingredients
* Switch between cup/oz and g/ml in Account Settings*
Whole Wheat Couscous

Whole Wheat Couscous

160g

1 cup

Vegetable Broth

Vegetable Broth

250ml

1 cup

Red Pointed Pepper

Red Pointed Pepper

4

4

Olive Oil

Olive Oil

2 tbsp

2 tbsp

Red Onion

Red Onion

1

1

Garlic

Garlic

2 cloves

2 cloves

Dried Oregano

Dried Oregano

1 tbsp

1 tbsp

Ground Black Pepper

Ground Black Pepper

1/4 tsp

1/4 tsp

Chickpeas in Water

Chickpeas in Water

400g

2 cups

Pitted Black Olives

Pitted Black Olives

65g

1/2 cup

Cherry Tomatoes

Cherry Tomatoes

75g

1/2 cup

Baby Spinach

Baby Spinach

60g

2 cups

Vegan Feta Cheese

Vegan Feta Cheese

200g

1 & 1/3 cups

Lemon

Lemon

1/2

1/2
Instructions
1.

Add couscous to a small bowl, cover with hot vegetable broth, cover and set aside.

2.

Slice pointed peppers in half, deseed and set aside. Preheat oven to 200c.

3.

Add onion to a nonstick pan over medium high heat and cook until softened.

4.

Add garlic and herbs to pan and stir until fragrant.

5.

Add chickpeas and cook for 5 to 10min.

6.

While cooking, place peppers in oven and roast for 3min, flip and roast for 3min, remove from oven (leave the oven on though) and set aside.

7.

Add olives, cherry tomatoes and couscous to chickpea mixture and stir to combine, cook for 3min.

8.

Add spinach and stir until just wilted, add salt and pepper to taste and remove from heat.

9.

Fill the peppers with mixture and place in oven for 3 to 5min.

10.

Remove peppers from oven, top with crumbled feta and serve immediately.
Nutritional Information
Calories:


526

Fat:


20g

Sodium:


867mg

Carbs:


68g

Sugar:


8g

Protein:


21g