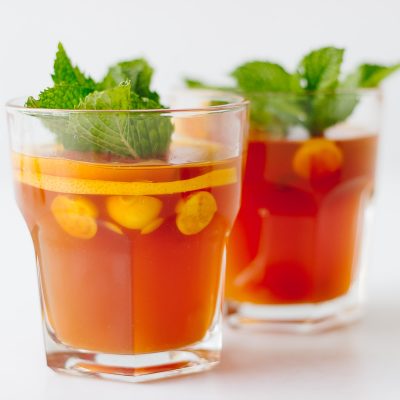 Grapefruit Rooibos Iced Tea
Prep: 15 Mins / Cook: 15 Mins

Serves 4

easy
Combining grapefruit, gooseberries, mint and distinctive rooibos tea, cool off in style with this gorgeous iced tea!
Gluten Free
Dairy Free
Ingredients
* Switch between cup/oz and g/ml in Account Settings*
Filtered Water

Filtered Water

750ml

3 cups

Rooibos Tea

Rooibos Tea

4 teabags

4 teabags

Grapefruit

Grapefruit

1/2

1/2

Mint

Mint

10 leaves

10 leaves

Gooseberries

Gooseberries

160g

1 cup

Raw Honey

Raw Honey

2 tbsp

2 tbsp
Instructions
1.

Heat filtered water in a saucepan until boiling and remove from heat.

2.

Slice half of the grapefruit along the width into thin slices. Place tea bags, grapefruit, mint leaves, 1/3 cup gooseberries and honey in the saucepan and allow to steep for 15min.

3.

Remove tea bags, and slightly mash the gooseberries, grapefruit slices and mint leaves to release flavour.

4.

Strain through a sieve and allow to cool.

5.

Slice leftover gooseberries in half and add to iced tea before placing tea in the fridge to chill (flavour develops better if left overnight).Serve chilled over ice with slices of grapefruit and mint leaves.
Nutritional Information
Calories:


69

Sodium:


5mg

Carbs:


17g

Sugar:


10g

Protein:


1g