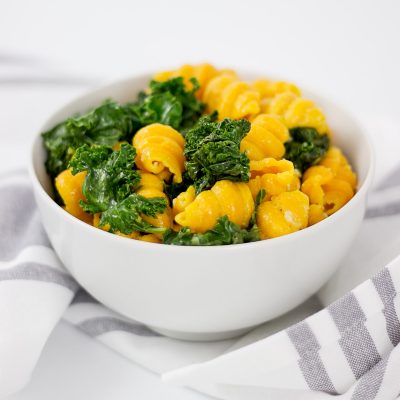 Garlic and Kale Butternut Pasta
Prep: 10 Mins / Cook: 15 Mins

Serves 2

easy
Ingredients
* Switch between cup/oz and g/ml in Account Settings*
Water

Water

500ml

2 cups

Table Salt

Table Salt

pinch

pinch

Butternut Pasta Shells

Butternut Pasta Shells

300g

3 cups

Olive Oil

Olive Oil

1 tbsp

1 tbsp

Vegan Butter

Vegan Butter

1 tbsp

1 tbsp

Garlic

Garlic

2 cloves

2 cloves

Kale

Kale

200g

3 cups

Vegan Parmesan

Vegan Parmesan

1 tbsp

1 tbsp
Instructions
1.

Bring water to boil with a pinch of salt in a large pot, add pasta and cool until al dente (roughly 8min), drain and set aside.

2.

Add olive oil, butter and minced garlic to a large pot and cook over medium heat for 2min until fragrant, add destalked kale and cook for 5min or until wilted, remove from heat.

3.

Add drained pasta to pot with kale, toss to combine, allow to cool slightly, add parmesan and toss again to coat.

4.

Season to taste and enjoy!
Nutritional Information
Calories:


802

Fat:


16g

Sodium:


132mg

Carbs:


148g

Sugar:


4g

Protein:


33g