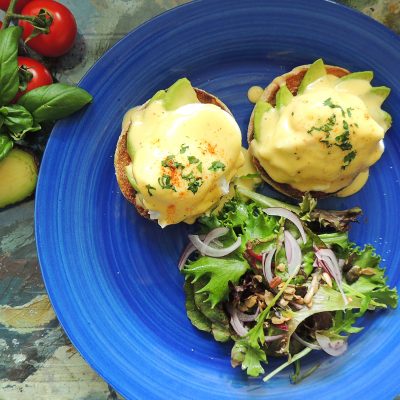 Eggs Benedict with Avocado
Prep: 15 Mins / Cook: 30 Mins

Serves 2

easy
Toasted muffins topped with avocado, organic eggs and a creamy Hollandaise Sauce make for a gorgeous vegetarian weekend brunch. Add the recipe to your free meal planner and treat family and friends!
Dairy Free
High Protein
Ingredients
* Switch between cup/oz and g/ml in Account Settings*
Organic Eggs

Organic Eggs

6

6

English Muffins

English Muffins

2

2

Water

Water

1L

3 cups

Apple Cider Vinegar

Apple Cider Vinegar

70ml

4 & 2/3 tbsp

Avocado

Avocado

1

1

Irish Butter

Irish Butter

125g

1/2 cup

Table Salt

Table Salt

to taste

to taste

Ground Black Pepper

Ground Black Pepper

to taste

to taste
Instructions
1.

Hollandaise Sauce: To make the Hollandaise sauce you will firstly need to clarify the butter and then make a water bath.

2.

To turn normal butter into clarified butter you heat it very slowly and the fat separates from the butter, leaving you with clear yellow liquid and a fatty section that can be discarded.

3.

To make a water bath and build the hollandaise - heat a small amount of water in a saucepan and place a metal bowl over the top. Into the bowl add 2 egg yolks, 10ml of vinegar and slowly pour the clarified butter whilst whisking constantly. As the mixture heats it will thicken up, be careful not to let it get overheated, if this happens and it goes too thick you can slowly add water whilst whisking until the desired texture is achieved. Season with salt and pepper and keep in a warm place with plastic wrap touching the sauce so it doesn't dry out.

4.

Poaching eggs: Start by heating up your liter of water to the point where there are very small bubbles appearing but not yet boiling. It is important to keep the water at this temperature for the cooking process to work well.

5.

Add 50ml of vinegar to the water. This is what makes the egg coagulate around itself and turn into a delicious little egg ball.

6.

Now you are ready to crack your eggs. Its is customary to give a very gently twirl of the water in a whirlpool motion also to help the shape of the egg form.

7.

So crack each egg gently into the water and set a timer for 3minutes, if the eggs are particularly large then you can maybe let it go another 20 or 30 seconds.

8.

Remove with a large strainer spoon and place on a towel or tissue to get rid of excess water.

9.

At this point add salt and pepper to the eggs.

10.

Finally: building the dish. Toast your muffins/bread on a grill or in a pan with olive oil or butter. Slice your avocado. Place the avocado on the toast. Place your freshly poached egg on top of the avocado. Pour the desired amount of hollandaise over the top. Get stuck into a delicious breakfast!
Nutritional Information
Calories:


1151

Fat:


91g

Sodium:


2128mg

Carbs:


33g

Sugar:


4g

Protein:


38g