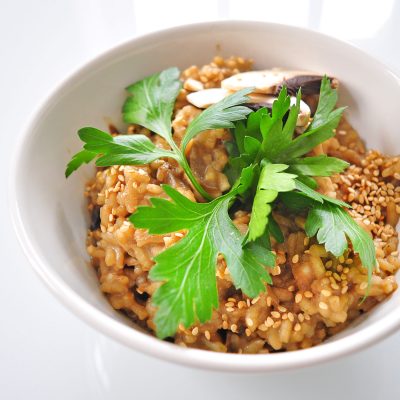 Easy Mushroom Risotto
Prep: 10 Mins / Cook: 35 Mins

Serves 4

easy
Ingredients
* Switch between cup/oz and g/ml in Account Settings*
Large Mushrooms

Large Mushrooms

4

4

Risotto Rice

Risotto Rice

500g

2 & 1/2 cups

Small Onions

Small Onions

2

2

White Wine

White Wine

125ml

1/2 cup

Dark Soy Sauce

Dark Soy Sauce

1 tbsp

1 tbsp

Vegan Butter

Vegan Butter

2 tbsp

2 tbsp

Bouillon Vegetable Powder

Bouillon Vegetable Powder

1 tsp

1 tsp

Water

Water

2 ltr

8 cups

Fresh Parsley

Fresh Parsley

25g

1 cup

Sesame Seeds

Sesame Seeds

2 tbsp

2 tbsp
Instructions
1.

Place a saucepan of water on the stove, add the vegetable powder and half a tablespoon of soy sauce, and bring to a boil.

2.

Peel and chop the onion. Add 1 tablespoon of butter to a frying pan and place on the hob. Once hot add the chopped onions and saute until the onions become translucent.

3.

Then add the mushrooms to the pan, the white wine and half tablespoon of the soy sauce. Cook for a further 10 minutes.

4.

Wash the risotto rice. Then add the drained rice to the pan along with enough of the now boiled water to cover the rice, and stir.

5.

Continue to stir and as you notice that the rice begins to absorb the water, add more water and continue to stir.

6.

Repeat this process, as you cook the risotto for at least 20 mins and until the rice has the texture you prefer.

7.

Once cooked, add 1 tablespoon of butter and mix through. Leave to rest for 5 mins before serving. Garnish with sliced mushrooms, sesame seeds and fresh parsley.
Nutritional Information
Calories:


256

Fat:


11g

Sodium:


1534mg

Carbs:


30g

Sugar:


4g

Protein:


3g