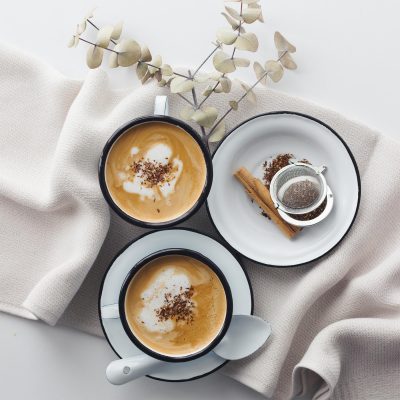 Dirty Chai Latte
Prep: 10 Mins / Cook: 5 Mins

Serves 2

easy
Our dirty chai latte vegan recipes is simple to make and is also gluten free, dairy free and high in protein. And to top it all off, it is also something you can make in under 30 minutes! Packed with succulent spices, almonds and the sweet hit of vanilla, we think this latte makes for a great weekend treat!
Gluten Free
Dairy Free
High Protein
Under 30 mins
Ingredients
* Switch between cup/oz and g/ml in Account Settings*
Almonds

Almonds

45g

1/3 cup

Filtered Water

Filtered Water

500ml

2 cups

Vanilla Extract

Vanilla Extract

1 tsp

1 tsp

Sea Salt

Sea Salt

pinch

pinch

Chai Tea

Chai Tea

2 teabags

2 teabags

Cinnamon Sticks

Cinnamon Sticks

1

1

Espresso

Espresso

2 pods

2 pods
Instructions
1.

*Note: Pre-soak the almonds in filtered water overnight the night before serving*.

2.

Drain and rinse almonds after 8 to 12hrs.

3.

Blend almonds, two cups (500ml) filtered water, vanilla extract and a pinch of salt in a blender.

4.

Strain into a bowl to seperate pulp from milk.

5.

Place 1,5 cups (375ml) almond milk, tea bags, vanilla extract and cinnamon stick in a small saucepan on medium heat and simmer for 5min, whisking constantly.

6.

After 5min, remove milk from stove and remove tea bags and cinnamon stick.

7.

Pour one shot of espresso into each cup.

8.

Froth milk mixture and pour it into cups, top with cinnamon and enjoy!
Nutritional Information
Calories:


356

Fat:


27g

Sodium:


125mg

Carbs:


18g

Sugar:


4g

Protein:


11g