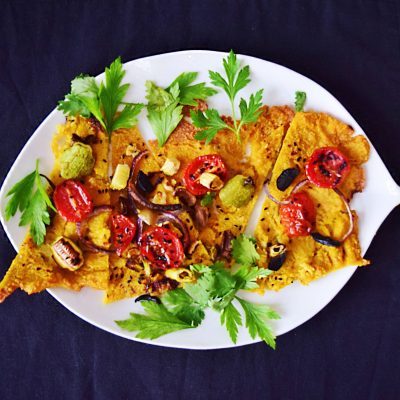 Curried Polenta Chips
Prep: 15 Mins / Cook: 25 Mins

Serves 4

easy
Combine coconut oil with curry paste to produce these moreish and healthy polenta chips. Healthy and gluten free, they're perfect as a moreish snack or buffet.
Gluten Free
Dairy Free
Low Carb
Ingredients
* Switch between cup/oz and g/ml in Account Settings*
For the polenta:

Coconut Oil

Coconut Oil

1 tsp

1 tsp

Green Thai Curry Paste

Green Thai Curry Paste

1.5 tsp

1.5 tsp

Vegetable Stock

Vegetable Stock

1 tsp

1 tsp

Vegan Butter

Vegan Butter

1/2 tbsp

1/2 tbsp

Polenta

Polenta

160g

1 cup

Water

Water

375ml

1 & 1/2 cups

Soy Milk

Soya Milk

375ml

1 & 1/2 cups

Toppings:

Red Onion

Red Onion

1

1

Cherry Tomatoes

Cherry Tomatoes

150g

1 cup

Zucchini

Courgette

1

1

Black Olives

Black Olives

70g

1/2 cup

Black Sesame Seeds

Black Sesame Seeds

1 tsp

1 tsp
Instructions
1.

Add the coconut oil to a hot pan.

2.

Add the curry powder, the vegetable stock and stir a little until the spices begin to release their aromas. Now pour in the water, the milk and the butter and cook to a boil.

3.

Once boiled, reduce the heat to a simmer and pour in the polenta slowly while you continue to stir. It is very important to add the polenta as a "rain". It will require patience but is the key to ensure a smooth texture in the end. Cook for 5 minutes and then set aside.

4.

Pre-heat the oven to 180°C/ 350 F°.

5.

Spread the polenta in a baking tray and try to make the spread 1 cm thick. Now top with chopped vegetables.

6.

Place into the oven and cook for approx 15 minutes. When you see the edges of the polenta turn crispy, its time!

7.

Cut into triangles and serve warm or cold.
Nutritional Information
Calories:


118

Fat:


7g

Sodium:


90mg

Carbs:


11g

Sugar:


3g

Protein:


5g