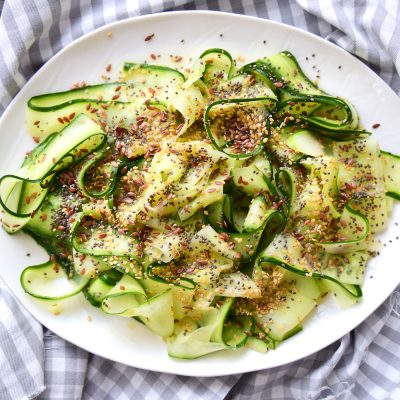 Cucumber Ribbon Salad
Prep: 10 Mins / Cook: 0 Mins

Serves 4

easy
This sweet and refreshing cucumber salad is a wonderful vegan and gluten free appetizer or side dish on warm summer days! Fresh cucumber peeled into ribbons and topped with a variety of seeds and a tangy lime and olive oil dressing it's a real crowdpleaser!
Gluten Free
Dairy Free
Low Carb
Under 30 mins
Ingredients
* Switch between cup/oz and g/ml in Account Settings*
Cucumber

Cucumber

2

2

Lime

Lime

juice of 1

juice of 1

Olive Oil

Olive Oil

1 tbsp

1 tbsp

Chia Seeds

Chia Seeds

1 tbsp

1 tbsp

Mixed Sesame Seeds

Mixed Sesame Seeds

1 tbsp

1 tbsp

Linseed

Linseed

1/2 tbsp

1/2 tbsp
Instructions
1.

Wash the cucumbers and then finely slice them lengthways.

2.

Add a dressing of oil and freshly squeezed lime juice.

3.

Sprinkle on the various seeds and reserve in the fridge for an hour before serving.
Nutritional Information
Calories:


68

Fat:


6g

Sodium:


1mg

Carbs:


4g

Protein:


2g