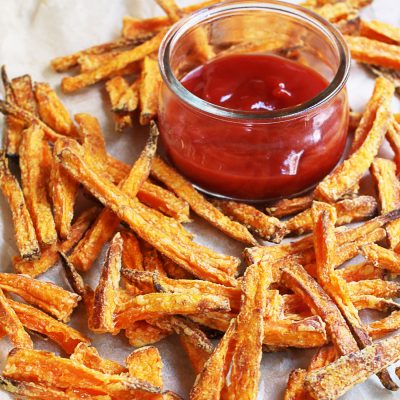 Crispy Sweet Potato Fries
Prep: 5 Mins / Cook: 25 Mins

Serves 2

easy
Much healthier than regular french fries, our homemade crispy sweet potato fries are further proof vegans can enjoy the occasional junk food, albeit in a healthier way! Rich in vitamin A, C and potassium, sweet potato has a whole range of health benefits including lowering blood sugar, improving brain health and being high in antioxidants.
Gluten Free
Dairy Free
Ingredients
* Switch between cup/oz and g/ml in Account Settings*
Sweet Potato

Sweet Potato

1

1

Cornstarch

Cornflour

2 tbsp

2 tbsp

Olive Oil

Olive Oil

2 tbsp

2 tbsp

Table Salt

Table Salt

1/4 tsp

1/4 tsp

Ground Black Pepper

Ground Black Pepper

pinch

pinch
Instructions
1.

Preheat oven to 180°C.

2.

Peel and slice sweet potato into 1-2cm thick strips.

3.

Place the strips in a zip-top plastic bag, add corn starch, salt and pepper and shake until strips are coated with the powder. Add 2 tbsp olive oil to the bag and shake for a couple of minutes.

4.

Grease a baking tray with olive oil and line with baking parchment. Place the sweet potato strips onto the tray, making sure the strips aren't overlapping one another.

5.

Bake for 20min or until sweet potato fries are tender and golden brown, mixing occasionally.

6.

Allow fries to cool for 5min, sprinkle with additional salt if needed and serve with ketchup or vegan mayonnaise.
Nutritional Information
Calories:


262

Fat:


18g

Sodium:


362mg

Carbs:


24g

Sugar:


5g

Protein:


2g