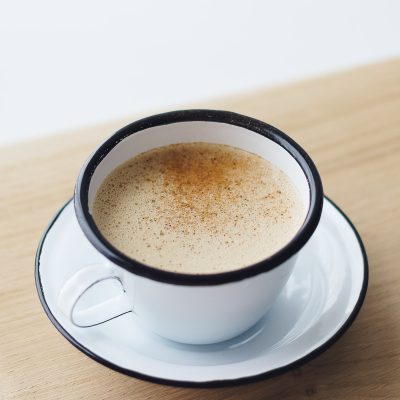 Creamy Cashew Coffee
Prep: 5 Mins / Cook: 0 Mins

Serves 2

easy
Good morning! Nothing starts the day better than a good cup of warm coffee in the morning - except a cup of coffee infused with cashews that is! And it's so simple! Here we show you how to make this creamy, nutty and maple-sweetened cashew coffee. If you're after a coffee with some added personality, 4 ingredients and 5 minutes is all you need!
Gluten Free
Dairy Free
Low Carb
Under 30 mins
Ingredients
* Switch between cup/oz and g/ml in Account Settings*
Brewed Coffee

Brewed Coffee

500ml

2 cups

Cashew Nuts

Cashew Nuts

40g

1/3 cup

Maple Syrup

Maple Syrup

2 tsp

2 tsp

Sea Salt

Sea Salt

pinch

pinch
Instructions
1.

Brew two cups coffee of your choice.

2.

Add all ingredients to a blender and blend until smooth and creamy.

3.

Pour into two mugs and enjoy warm, or chill in refrigerator and serve over ice.
Nutritional Information
Calories:


130

Fat:


8g

Sodium:


63mg

Carbs:


11g

Sugar:


7g

Protein:


4g