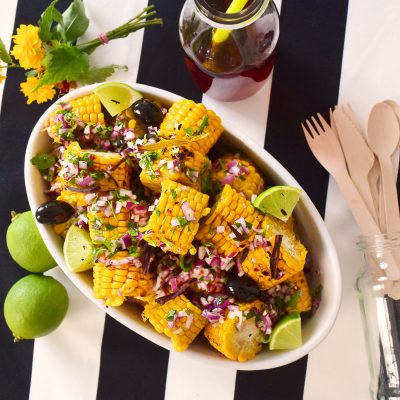 Corn on the Cob Salad
Prep: 10 Mins / Cook: 15 Mins

Serves 4

easy
These succulent, buttery cobs are bursting with flavor! Drizzled with lime and sweet agave, these mouthwatering smoky vegan cobs are a fantastic gluten free side dish option!
Gluten Free
Dairy Free
Under 30 mins
Ingredients
* Switch between cup/oz and g/ml in Account Settings*
Corn on the Cob

Corn on the Cob

4 cobs

4 cobs

Vegan Butter

Vegan Butter

1 tbsp

1 tbsp

Table Salt

Table Salt

1 tsp

1 tsp

For the dressing:

Olive Oil

Olive Oil

60ml

1/4 cup

Fresh Parsley

Fresh Parsley

handful

handful

Red Chili Flakes

Crushed Chillies

1 tsp

1 tsp

Red Onion

Red Onion

1

1

Agave Nectar

Agave Nectar

1 tsp

1 tsp

Lime

Lime

1

1

Garnish:

Black Olives

Black Olives

40g

1/3 cup

Leek

Leek

1

1
Instructions
1.

Note: this recipe uses leek ash as a garnish. Leek ash should be prepared in advance of cooking and will keep for upto 3 days. To make it – wash the leek and use the green section of the vegetable. Put the leek on a lined baking tray and cook in the oven at 200C for 60-90 minutes. When the time is up, remove from the oven, let cool and then with your hands break the leek into ashy pieces.

2.

Pre-heat the oven to 200C.

3.

Cut the corn cobs into halves. Line a baking tray and place the cobs onto the tray and brush with butter and a sprinkling of salt. Place into the oven and cook for 10-15 minutes.

4.

Peel and finely dice the red onion.

5.

Wash and finely chop the parsley.

6.

In a mixing bowl add the onion and parsley. Mix with olive oil, crushed chilli flakes, agave and the juice of 1 lime.

7.

Now remove the corn from the oven, and set aside to cool.

8.

Then serve the corn with the dressing, olives, some extra limes and a scattering of the pre-prepared leek ash.
Nutritional Information
Calories:


250

Fat:


17g

Sodium:


43mg

Carbs:


26g

Sugar:


6g

Protein:


3g