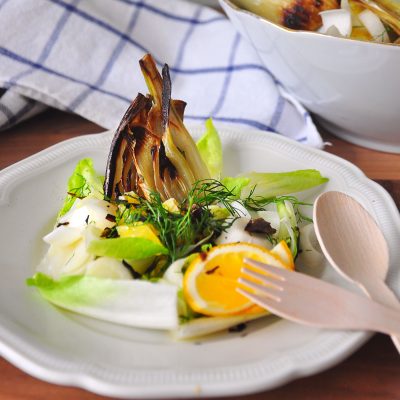 Endive and Roasted Fennel Salad
Prep: 10 Mins / Cook: 15 Mins

Serves 4

easy
Ingredients
* Switch between cup/oz and g/ml in Account Settings*
Chicory/Endive

Chicory/Endive

6

6

Fennel

Fennel

3

3

Orange

Orange

2

2

Dill

Dill

handful

handful

Dill Oil

Dill Oil

2 tsp

2 tsp

Sunflower Oil

Sunflower Oil

1 tbsp

1 tbsp

Table Salt

Table Salt

to taste

to taste

Leek

Leek

1

1
Instructions
1.

*Note: this recipe uses leek ash as a garnish. Leek ash should be prepared in advance of cooking and will keep for upto 3 days. To make it – wash the leek and use the green section of the vegetable. Put the leek on a lined baking tray and cook in the oven at 200C for 60-90 minutes. When the time is up, remove from the oven, let cool and then with your hands break the leek into ashy pieces.*

2.

Wash the fennel and cut into quarters. Line a baking tray, add the fennel, season with salt and sunflower oil and mix gently with your hands. Put in the oven, set the temperature to 200°C and cook for 15 minutes until the fennel soften and the edges go crisp.

3.

Wash the endives and pull the leaves apart.

4.

Peel the orange, remove the white pith and cut the orange into small pieces.

5.

Once the fennel is cooked, take it out from the oven and set aside to cool.

6.

Then in a salad bowl, mix the endive and fennel together with the orange and dill oil. Top with some chopped dill, orange segments and leek ash.
Nutritional Information
Calories:


285

Fat:


8g

Sodium:


277mg

Carbs:


50g

Sugar:


15g

Protein:


13g