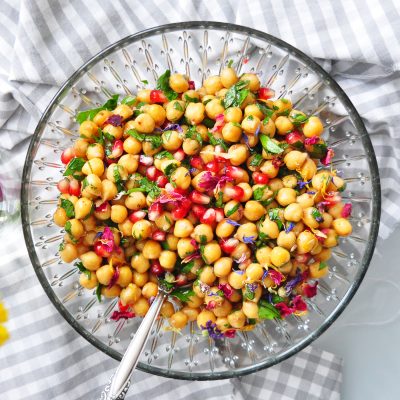 Chickpea and Pomegranate Salad
Prep: 10 Mins / Cook: 30 Mins

Serves 4

easy
Ingredients
* Switch between cup/oz and g/ml in Account Settings*
Chickpeas

Chickpeas

300g

1 & 1/2 cups

Pomegranate

Pomegranate

1/4

1/4

Fresh Parsley

Fresh Parsley

bunch

bunch

For the dip:

Tahini

Tahini

2 tbsp

2 tbsp

Lime

Lime

juice of 1

juice of 1

Table Salt

Table Salt

pinch

pinch

Agave Nectar

Agave Nectar

1 tsp

1 tsp

Edible Flowers

Edible Flowers

small handful

small handful
Instructions
1.

*Pre-soak the chickpeas the night before cooking*

2.

Add a saucepan of water to the stove and boil the chickpeas for 30 minutes or until they soften. Once cooked, remove from the heat to cool down.

3.

Cut the pomegranate and extract the seeds. Wash and fine chop the parsley.

4.

For the dip: Use a small bowl to blend the tahini with the freshly squeezed lime juice, agave nectar and salt.

5.

In a serving bowl, mix the dip with the drained chickpeas, pomegranate seeds, parsley and a sprinkling of edible flowers.
Nutritional Information
Calories:


172

Fat:


7g

Sodium:


229mg

Carbs:


24g

Sugar:


3g

Protein:


6g