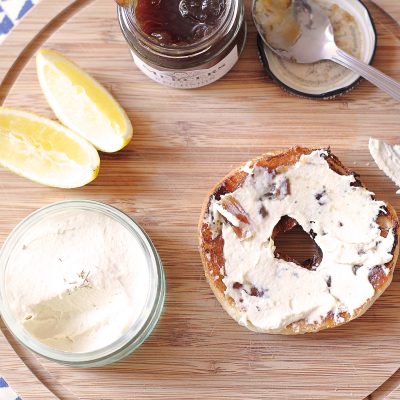 Cashew Cream Cheese
Prep: 10 Mins / Cook: 0 Mins

Serves 6

easy
Want some cream cheese in your life but value a dairy free lifestyle? With a hint of rosemary and a tang of lemon, this moreish spread is creamy and nutty. Cashew nuts are the secret to this gorgeous vegan cream cheese recipe. Quick, gluten free and so easy to prepare!
Gluten Free
Dairy Free
High Protein
Low Carb
Under 30 mins
Ingredients
* Switch between cup/oz and g/ml in Account Settings*
Cashew Nuts

Cashew Nuts

60g

1/2 cup

Garlic Infused Oil

Garlic Infused Oil

1 tbsp

1 tbsp

Lemon Juice

Lemon Juice

1 tbsp

1 tbsp

Apple Cider Vinegar

Apple Cider Vinegar

1/2 tsp

1/2 tsp

Dried Rosemary

Dried Rosemary

pinch

pinch

Sea Salt

Sea Salt

to taste

to taste
Instructions
1.

*Timing tip: Soak the cashews in hot water for at least an hour (or overnight if you don´t have a high powered blender).

2.

Drain the cashews and add into a high-powered blender along with the oil, lemon juice, apple cider vinegar and salt.

3.

Blend for around 1 minute in a high powered blender, or around 3-5 minutes (or longer if needed) in a lower power unit, until it has formed a smooth, thick paste that resembles cream cheese. If it is too thick, then add a little warm water.

4.

Transfer to a small dish and sprinkle over the dried rosemary. Serve on a hot bagel with red onion marmalade or use as a substitute to cream cheese in any other dish!

5.

Store in an airtight pot in the fridge for up to three days.

6.

*Note: The garlic-infused oil can be substituted for one tablespoon of plain rapeseed or olive oil and one small crushed clove of garlic but the taste from the garlic will be stronger.
Nutritional Information
Calories:


62

Fat:


22g

Sodium:


77mg

Carbs:


18g

Sugar:


4g

Protein:


11g