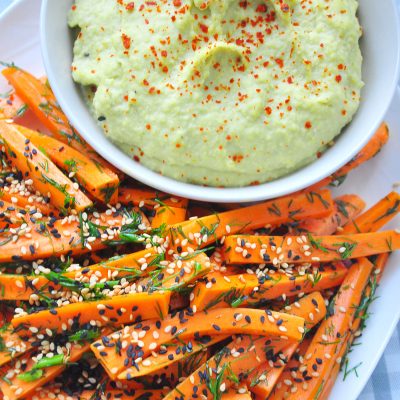 Carrot Sticks and Green Bean Mayo Dip
Prep: 10 Mins / Cook: 30 Mins

Serves 4

easy
Gluten free, low in fat and carbs, this moreish carrot and green bean infused mayo dip is a wonderful appetizer for your vegan meal plan. This delicious green bean mayonnaise is also completely dairy free.
Gluten Free
Dairy Free
Ingredients
* Switch between cup/oz and g/ml in Account Settings*
Carrot

Carrot

4

4

Olive Oil

Olive Oil

1 tbsp

1 tbsp

Sesame Seeds

Sesame Seeds

1 tbsp

1 tbsp

For the mayonnaise:

Green Beans

Green Beans

250g

1 & 2/3 cups

Agave Nectar

Agave Nectar

1 tsp

1 tsp

Olive Oil

Olive Oil

2 tbsp

2 tbsp

Table Salt

Table Salt

1 tsp

1 tsp

Red Chili Flakes

Crushed Chillies

1/2 tsp

1/2 tsp
Instructions
1.

Peel the carrots and cut them into sticks.

2.

Drizzle with olive oil and garnish with sesame seeds and finely chopped dill.

3.

For the mayonnaise: Boil the green beans in a saucepan of salted water for approx 30 minutes until soft.

4.

Drain the beans and pour into a blender, use a little of the cooking water, add oil, salt and the agave syrup. Once blended, set aside to cool down.

5.

Now add the mayonnaise to a small bowl with a sprinkling of chilli flakes and serve with the carrot sticks.
Nutritional Information
Calories:


173

Fat:


11g

Sodium:


48mg

Carbs:


14g

Sugar:


4g

Protein:


5g