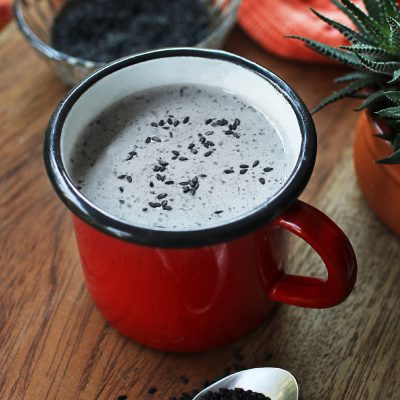 Black Sesame Latte
Prep: 5 Mins / Cook: 50 Mins

Serves 4

easy
Try not to fall in love with this delicious alternative latte! Combining black sesame seeds, white rice, vanilla extract and your favorite dairy free milk - it's a wonderfully tasty caffeine-free latte - perfect for a timeout anytime from morning to night.
Gluten Free
Dairy Free
Low Carb
Ingredients
* Switch between cup/oz and g/ml in Account Settings*
White Rice

White Rice

40g

3 tbsp

Black Sesame Seeds

Black Sesame Seeds

25g

3 tbsp

Vanilla Extract

Vanilla Extract

1/4 tsp

1/4 tsp

Granulated Sugar

Granulated Sugar

2 tsp

2 tsp

Water

Water

500ml

2 cups

Unsweetened Almond Milk

Unsweetened Almond Milk

500ml

2 cups
Instructions
1.

*For best results, pre-soak the rice in water overnight the night before*.

2.

Wash and rinse the rice, combine it with 500ml hot water in a pot. Cook and stir until the water is bubbling, reduce heat to medium-low. Cover and cook for 20 minutes. (Stir regularly to prevent it from sticking to the bottom).

3.

Meanwhile roast the sesame seeds for 5 minutes, then set aside to cool for 10 minutes.

4.

Grind the roasted sesame seeds into a powder with a food processor (set aside a small handful for the topping).

5.

Add the sesame powder and sugar to the rice, cook for a further 10 mins and then remove from the heat.

6.

Add 500ml almond milk and blend until smooth and creamy and sprinkle on a few sesame seeds.

7.

This sesame latte is delicious served both hot and cold. Tips: * If you don't have time to pre-soak the rice overnight, add an extra 15 minutes to the cooking time plus 100ml water. ** Black sesame seeds are a little bitter compared to white sesame seeds, which have a slightly sweet and nutty flavour. You can use 50/50 black and white sesame seeds if you are not a big fan of the black sesame seed's stronger flavour. *** Sesame seed's flavour and aroma improve after roasting.
Nutritional Information
Calories:


74

Fat:


4g

Sodium:


99mg

Carbs:


7g

Sugar:


3g

Protein:


2g