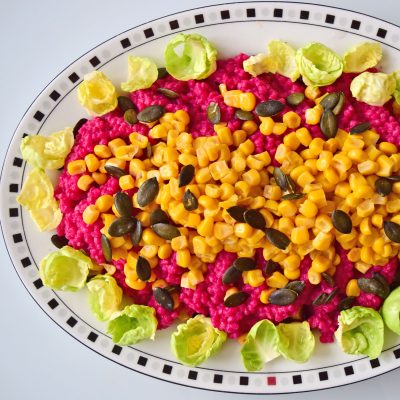 Beetroot Barley and Sweetcorn Salad
Prep: 15 Mins / Cook: 45 Mins

Serves 4

easy
Served with a gorgeous beet (beetroot) pesto, this colorful and tasty salad is a great light meal or side dish! It's rich in protein and easy to prepare too!
Dairy Free
High Protein
Ingredients
* Switch between cup/oz and g/ml in Account Settings*
Barley

Barley

200g

1 cup

Water

Water

750ml

3 cups

Corn Kernels in Water

Sweetcorn in Water

180g

1 cup

Pumpkin Seeds

Pumpkin Seeds

65g

1/2 cup

Baby Cabbage

Baby Cabbage

50g

1/2 cup

For the pesto:

Beet

Beetroot

1

1

Olive Oil

Olive Oil

2 tbsp

2 tbsp

Agave Nectar

Agave Nectar

1/2 tsp

1/2 tsp

Table Salt

Table Salt

to taste

to taste
Instructions
1.

For the pesto: Boil the beetroot for 15 minutes in a saucepan of water. Then drain and set aside to cool down. Once cool, peel the beetroot and place it into a blender. Also add the oil, salt, agave nectar and blend for 1 minute until you get a uniform texture.

2.

Rinse the barley and add it to saucepan of boiling water. Cook on the stove for 45 minutes on a low heat. Once the barley has absorbed all the water, cover the saucepan with a lid and leave to cool down.

3.

Wash the cabbage and tear off the leaves. Drain the sweetcorn.

4.

In a large mixing bowl use your hands to mix the barley with the pesto. Serve with a topping of sweetcorn, pumpkin seeds and cabbage leaves.
Nutritional Information
Calories:


376

Fat:


16g

Sodium:


39mg

Carbs:


47g

Sugar:


7g

Protein:


12g