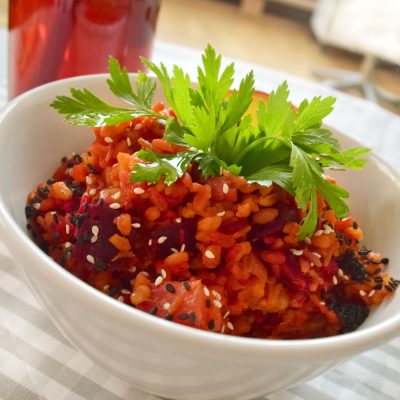 Beetroot and Bulgur Salad
Prep: 20 Mins / Cook: 65 Mins

Serves 4

easy
Perfect for meal prep or as an appetizing lunch, this healthy beet and bulgur salad is flavored with Thai spices, cinnamon and fresh parsley - delicious!
Dairy Free
Ingredients
* Switch between cup/oz and g/ml in Account Settings*
Coconut Oil

Coconut Oil

1 tbsp

1 tbsp

Red Thai Curry Paste

Red Thai Curry Paste

2 tbsp

2 tbsp

Bouillon Vegetable Powder

Bouillon Vegetable Powder

1 tbsp

1 tbsp

Sweet Paprika

Sweet Paprika

1 tbsp

1 tbsp

Cinnamon Sticks

Cinnamon Sticks

1/4 stick

1/4 stick

Yellow Onion

Brown Onion

2

2

Garlic

Garlic

2 cloves

2 cloves

Raw Beet

Raw Beetroot

1

1

Raw Yellow Beet

Raw Yellow Beetroot

1

1

Water

Water

100ml

4 cups

Salad Tomatoes

Salad Tomatoes

2

2

Bulgur Wheat

Bulgur Wheat

450g

2 cups

Brown Sugar

Brown Sugar

1 tbsp

1 tbsp

Olive Oil

Olive Oil

1 tsp

1 tsp

Fresh Parsley

Fresh Parsley

handful

handful

Sesame Seeds

Sesame Seeds

1 tbsp

1 tbsp
Instructions
1.

Wash the beetroot and trim the stems. Place the beetroots in a saucepan of cold water, and bring to a boil, once boiled reduce the heat to a simmer and cook for 40-45 minutes, until soft.

2.

Read your favourite book or take a timeout for 30 minutes. Then wash and chop the tomatoes. Peel and dice the onion. Peel and chop the garlic.

3.

Add the coconut oil to a skillet and heat on the stove. Once hot add the curry paste, vegetable powder, sweet paprika and cinnamon, stir for 1 minute.

4.

Then add the onions and garlic, saute for 2-3 minutes.

5.

Rinse the bulgur wheat, drain off and add to the skillet. Cook and stir for 1 minute.

6.

By now, your beets should be cooked and soft, remove from the stove. Let cool and then dice.

7.

Now add the tomatoes, beetroot, brown sugar and a little olive oil to the skillet. Stir and cook for 1 minute, then add 4 cups (1 litre) of boiling water. Cover the saucepan with a lid, and cook on a low heat for 15-20 minutes (until the water has been absorbed).

8.

When the time is up, serve with fresh parsley and sesame seeds.
Nutritional Information
Calories:


311

Fat:


7g

Sodium:


1051mg

Carbs:


56g

Sugar:


11g

Protein:


9g