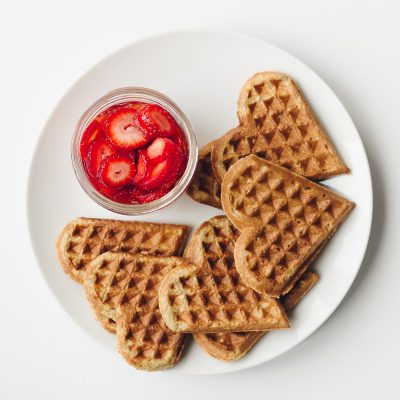 Banana Oat Waffles
Prep: 10 Mins / Cook: 20 Mins

Serves 2

easy
Brighten up your mornings by adding these gorgeous banana and strawberry oat waffles to your meal planner! Rich in protein, vitamin C and dietary fiber, these delicious waffles combine banana, rolled oats, organic eggs and a touch of vanilla. Baked golden and topped with a helping of honey-soaked sliced strawberries. Yum!
Dairy Free
High Protein
Ingredients
* Switch between cup/oz and g/ml in Account Settings*
Rolled Oats

Rolled Porridge Oats

180g

2 cups

Banana

Banana

1

1

Organic Eggs

Organic Eggs

2

2

Almond Milk

Almond Milk

250ml

1 cup

Vanilla Extract

Vanilla Extract

1 tsp

1 tsp

Baking Powder

Baking Powder

1 tsp

1 tsp

Table Salt

Table Salt

1/4 tsp

1/4 tsp

Strawberries

Strawberries

150g

1 cup

Set Honey

Set Honey

1 tbsp

1 tbsp

Water

Water

1 tbsp

1 tbsp
Instructions
1.

Slice the strawberries and mix with the honey and water and allow to stand while you make the waffles.

2.

Combine the rest of the ingredients in a blender, blend until smooth and allow to stand for 10 to 15 minutes until thickened.

3.

Add three tablespoonfuls to the centre of your waffle maker (or one to two heaped tablespoons to a non-stick frying pan if you're making pancakes), close the cover and remove once the wa?es are golden brown and crisp. Repeat.

4.

Top with strawberries and enjoy!
Nutritional Information
Calories:


784

Fat:


28g

Sodium:


421mg

Carbs:


87g

Sugar:


26g

Protein:


21g