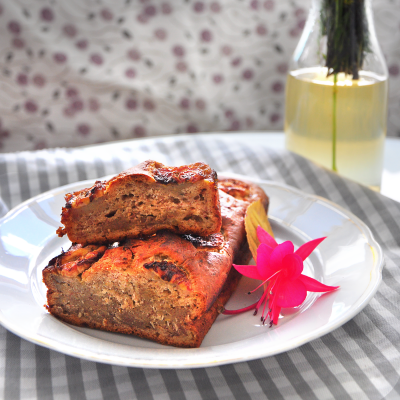 Banana Oat Bread
Prep: 8 Mins / Cook: 30 Mins

Serves 10

easy
Use only five ingredients to whip up this scrumptious banana oat bread. Great with your favorite spread in the morning or as a treat to go with your afternoon tea or coffee!
Gluten Free
Dairy Free
Ingredients
* Switch between cup/oz and g/ml in Account Settings*
Rolled Oats

Rolled Porridge Oats

270g

3 cups

3

3

Pitted Dates

Pitted Dates

175g

1 cup

Almond Milk

Almond Milk

250ml

1 cup

Ground Cinnamon

Ground Cinnamon

1 tsp

1 tsp

Baking Powder

Baking Powder

1 tsp

1 tsp
Instructions
1.

Use ripe bananas for best results. Reserve ½ a banana for the topping.

2.

Put the rest of the banana, dates, baking powder, cinnamon and ½ cup of milk into a blender. Blend until smooth. Then add the oats and the rest of the milk and blend again until 90% smooth.

3.

Pre-heat the oven to 180°C/350 F°.

4.

Line a loaf pan with parchment paper. Then pour the bread batter into the loaf pan.

5.

Bake in the oven for 10 minutes and then top the loaf with the reserved banana slices.

6.

Continue to bake for a further 20 minutes or until an inserted toothpick comes out clean.
Nutritional Information
Calories:


186

Fat:


2g

Sodium:


24mg

Carbs:


39g

Sugar:


17g

Protein:


4g