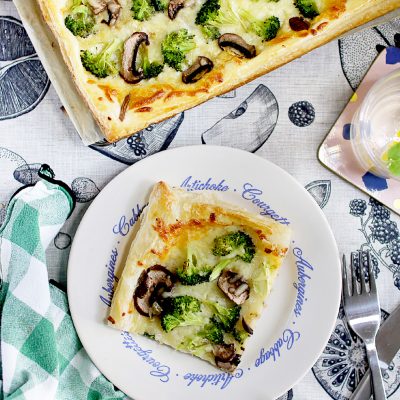 Vegetarian Puff Pastry Tart
Prep: 10 Mins / Cook: 20 Mins

Serves 4

easy
Topped with mozzarella, broccoli and mushrooms and lightly baked in the oven, these vegetarian puff pastry tarts are absolutely delicious. High in protein and low in carbs it's a great go-to recipe for a light lunch, dinner or buffet plate!
High Protein
Low Carb
Ingredients
* Switch between cup/oz and g/ml in Account Settings*
Puff Pastry

Puff Pastry

1 sheet

1 sheet

White Button Mushrooms

White Button Mushrooms

150g

2 cups

Organic Eggs

Organic Eggs

1

1

Broccoli

Broccoli

175g

1 cup

Mozzarella

Mozzarella

150g

1 & 1/3 cups

Table Salt

Table Salt

pinch

pinch

Ground Black Pepper

Ground Black Pepper

pinch

pinch
Instructions
1.

Cook the broccoli in a saucepan with salted water for around 3 minutes, then drain and set aside.

2.

Unroll the pastry sheet and place on a lined baking tray, top evenly with mushrooms, broccoli and grated cheese, leaving about a 1cm space around the edge.

3.

Season with a sprinkle of salt and pepper.

4.

Brush the edges with egg and bake for around 20 minutes until the cheese is melted and the pastry is fully risen and golden. Serve hot.
Nutritional Information
Calories:


293

Fat:


17g

Sodium:


511mg

Carbs:


19g

Sugar:


2g

Protein:


15g