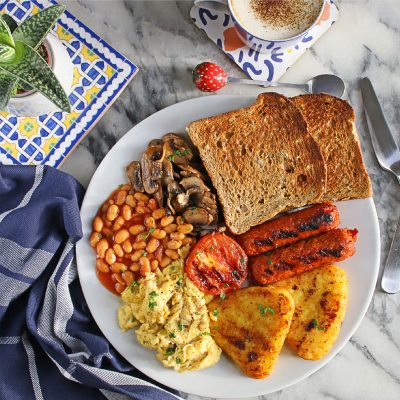 Vegetarian English Breakfast
Prep: 5 Mins / Cook: 15 Mins

Serves 2

easy
Nothing says hello Sunday morning more than the classic English breakfast - a wholesome breakfast cum brunch that is also notoriously effective at curing hangovers! And our vegetarian version tastes just like the real thing - filling, carb and protein rich and yet far healthier! A stacked plate of vegan sausages, hash browns, scrambled organic eggs, beans and fried mushrooms!
High Protein
Under 30 mins
Ingredients
* Switch between cup/oz and g/ml in Account Settings*
Wholewheat Bread

Wholemeal Bread

4 slices

4 slices

Large Vine Tomatoes

Large Vine Tomatoes

1

1

Vegan Sausages

Vegan Sausages

4

4

Hash Browns

Hash Browns

4

4

Baked Beans

Baked Beans

400g

1 & 1/2 cups

White Mushrooms

White Mushrooms

200g

2 & 2/3 cups

Organic Eggs

Organic Eggs

4

4

Unsweetened Almond Milk

Unsweetened Almond Milk

100ml

2/5 cup

Balsamic Vinegar

Balsamic Vinegar

1 tsp

1 tsp

Olive Oil

Olive Oil

3 tbsp

3 tbsp

Table Salt

Table Salt

3/4 tsp

3/4 tsp

Ground Black Pepper

Ground Black Pepper

pinch

pinch
Instructions
1.

Put the sausage, tomato and hash browns on a baking tray and grill for 10-15 minutes, turning them occasionally, until golden.

2.

Meanwhile, crack the eggs into a mixing bowl, add 100ml milk and 1/4 tsp salt. Whisk for 3-4 minutes until they turn a pale yellow colour.

3.

Heat 2 tbsp oil in a large, non-stick frying pan on medium heat for 1 minute. Pour in the egg mixture and allow to cook without stirring for a minute, until the bottom starts to set.

4.

Stir the mixture with a spatula, pulling, lifting and folding over from the bottom of the pan. Allow to sit for another 10 seconds then stir and fold again. The eggs are ready when they look silky and slightly runny.

5.

Remove from heat and leave in the pan for a moment to finish cooking (they will continue to cook a little even after you remove them from the heat).

6.

Heat baked beans in the microwave for 1 minute (or cook in small sauce pan for 3-4 minutes).

7.

Grab another frying pan and heat on high heat with 1 tbsp oil. Drop in the sliced mushrooms and cook for 2 minutes, stirring continuously.

8.

Season the mushrooms with balsamic vinegar, 1/2 tsp salt and black pepper, cook until the sweat from the mushroom has evaporated, around 3-4 minutes.

9.

Transfer mushrooms onto two large plates and split the scrambled eggs, baked beans, tomato (cut in half), hash browns and sausages between the two, and serve with toast.