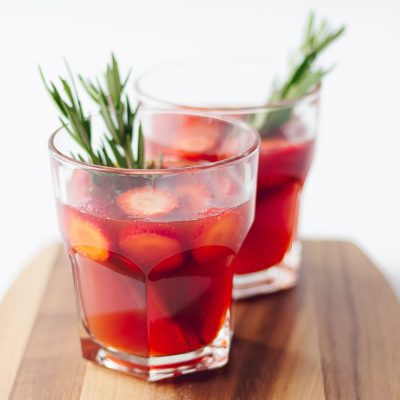 Strawberry Rosemary Rooibos Iced Tea
Prep: 10 Mins / Cook: 30 Mins

Serves 4

easy
Ingredients
* Switch between cup/oz and g/ml in Account Settings*
Filtered Water

Filtered Water

750ml

3 cups

Raw Honey

Raw Honey

85g

1/4 cup

Strawberries

Strawberries

12

12

Rosemary

Rosemary

3 sprigs

3 sprigs

Rooibos Tea

Rooibos Tea

4

4
Instructions
1.

Bring water, 8 strawberries and honey to boil in a small saucepan.

2.

Reduce to simmer, crush strawberries to infuse flavour, add rosemary sprigs, cover and steep for 30min.

3.

Brew tea and steep for 10min, remove tea bags and refrigerate to cool.

4.

After 30min strain strawberry syrup and pour into a container.

5.

Pour chilled iced tea into 4 glasses over sliced strawberries and ice, add syrup to taste and garnish with fresh rosemary sprigs.
Nutritional Information
Calories:


693

Sodium:


11mg

Carbs:


184g

Sugar:


183g

Protein:


1g