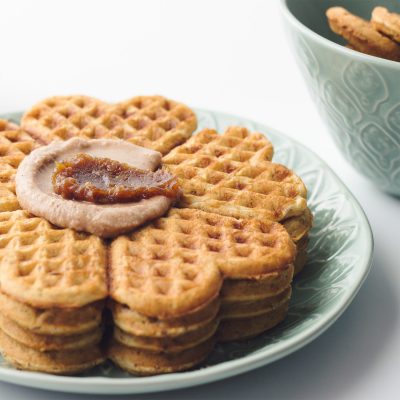 Spiced Chai Belgian Waffles
Prep: 60 Mins / Cook: 30 Mins

Serves 2

easy
Flavored with chai and rooibos, these gorgeous homemade Belgian waffles are irresistibly good! Gently toasted in the waffle iron and served with a sweet date puree and a cinnamon and nutmeg spiced coconut butter, they are packed with protein and will keep hunger firmly at bay! Crispy on the outside and feather-light on the inside, try out our delicious waffles in your meal plan this week!
High Protein
Ingredients
* Switch between cup/oz and g/ml in Account Settings*
All Purpose Flour

All Purpose Flour

90g

3/4 cup

Cornstarch

Cornflour

30g

1/4 cup

Baking Powder

Baking Powder

1/2 tsp

1/2 tsp

Baking Soda

Bicarbonate of Soda

1/2 tsp

1/2 tsp

Loose Rooibos Chai Tea

Loose Rooibos Chai Tea

3 tea bags

3 tea bags

Brown Sugar

Brown Sugar

3 tbsp

3 tbsp

Table Salt

Table Salt

1/2 tsp

1/2 tsp

Buttermilk

Buttermilk

180ml

3/4 cup

Vegetable Oil

Vegetable Oil

60ml

1/4 cup

Organic Eggs

Organic Eggs

1

1

Vanilla Extract

Vanilla Extract

1 tsp

1 tsp

Pitted Dates

Pitted Dates

90g

1/2 cup

Water

Water

125ml

1/2 cup

Shredded Coconut

Shredded Coconut

50g

1/2 cup

Ground Cinnamon

Ground Cinnamon

1/2 tsp

1/2 tsp

Ground Nutmeg

Ground Nutmeg

1/2 tsp

1/2 tsp
Instructions
1.

Add dates and boiling water to a small bowl and cover for 1hr.

2.

Add softened dates to a blender and pulse until smooth (butter like consistency), store in fridge until ready to use.

3.

Add coconut and spices to a blender and process until smooth (roughly 10-15min - stop blender every couple of minutes to scrape coconut from sides of the machine) and store in a closed container until ready to use.

4.

Cut open the teabags to use the leaves.

5.

Place flour, corn flour, baking powder, bicarbonate of soda, rooibos chai tea leaves, brown sugar and salt in a large mixing bowl and whisk to combine.

6.

Add buttermilk, olive oil and egg yolk to dry mixture and whisk until smooth.

7.

Whisk eggwhites in a medium bowl until soft peaks form.

8.

Gently fold egg whites into flour mixture to combine.

9.

Preheat a lightly greased waffle maker according to manufacturer's instructions.

10.

Spoon 3 tbsp batter into waffle maker and remove once golden brown and crispy.

11.

Reheat coconut butter in microwave for 10min if hardened.

12.

Top waffles with coconut butter and date butter and serve immediately.

13.

Note: Use tea leaves from roughly 3 tea bags. You can use any type of tea leaves - I find that mildly spicy leaves work best.**Use either shredded coconut or flakes, not dessicated coconut. ***Leftover date butter can be stored in a closed container in the fridge and reused later; leftover coconut butter can be stored in a closed container at room temperature.
Nutritional Information
Calories:


925

Fat:


46g

Sodium:


1358mg

Carbs:


119g

Sugar:


42g

Protein:


12g