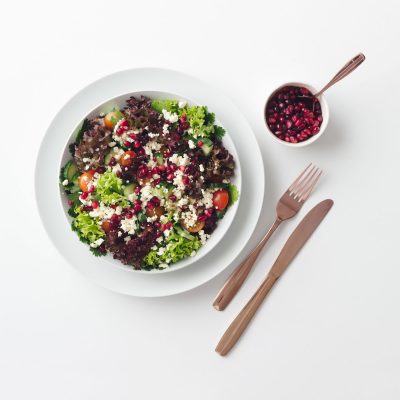 Leafy Pomegranate and Feta Salad
Prep: 10 Mins / Cook: 0 Mins

Serves 2

easy
This light and refreshing vegetarian salad is a delight, full of color and packed with flavor - it combines a fresh salad with pomegranate seeds, cucumber, tomato and fresh cilantro (coriander). Topped with feta or vegan cheese, it provides a good boost of protein and makes for a wonderful gluten free option for your meal planner!
Gluten Free
High Protein
Under 30 mins
Ingredients
* Switch between cup/oz and g/ml in Account Settings*
Mixed Salad

Mixed Salad

150g

4 cups

Cherry Tomatoes

Cherry Tomatoes

100g

2/3 cup

English Cucumber

English Cucumber

1/4

1/4

Fresh Cilantro

Fresh Coriander

handful

handful

Pomegranate Seeds

Pomegranate Seeds

40g

1/4 cup

Feta Cheese

Feta Cheese

40g

1/4 cup

Olive Oil

Olive Oil

2 tbsp

2 tbsp

Lime

Lime

1

1

Sea Salt

Sea Salt

pinch

pinch

Ground Black Pepper

Ground Black Pepper

pinch

pinch
Instructions
1.

Slice cherry tomatoes in half, roughly chop cucumber and pick coriander leaves (cilantro).

2.

Place ingredients in a salad bowl, starting with lettuce, coriander leaves, cucumber and cherry tomatoes.

3.

Drizzle with olive oil and juice from lime.

4.

Scatter crumbled feta and pomegranate seeds over salad and season to taste.
Nutritional Information
Calories:


234

Fat:


15g

Sodium:


457mg

Carbs:


14g

Sugar:


6g

Protein:


13g